Mission Statement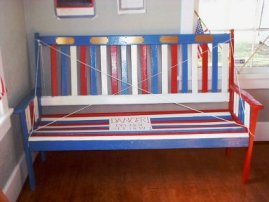 Our mission is to inform the people about the role of the military here in America in the past, present and future.
When military officers are sworn in they have to take the same oath that the President, members of Congress and the Supreme court must take. The veterans of the military can be proud in the knowledge that together, they play as important a role in the United States of America even as the President and governing bodies. Without the Veterans, the war to protect freedom might have been lost.
We wish to allow our visitors to appreciate the rich military history of America, and thus appreciate their freedom today.
A little Symbol that Means So Much.
The military have finally come up with their own way of honoring the veterans. If any member of the military sees anyone wearing the "Ruptured Duck", the badge or pin which signifies that the wearer served honorably in WWII, he or she must say "We stand upon your shoulders" and salute them. This gesture of appreciation means so much to the veterans.

Click to view a list of U.S. military deaths in the war on terrorism.